Customized sweets, just as you desire
Corporate sweets are an excellent idea for increasing your brand's recognition. They are also a perfect way to immediately stand out from the competition. With personalization, you can reflect the style or character of your company. You can apply an individual advertising message or strengthen your image through consistent communication with customers. This way, you will build awareness of your brand, which will translate into recognition and bring you a multitude of loyal customers and contractors. 
We have our own CHOCOLATE FACTORY, CARAMEL FACTORY, and numerous PRINTING HOUSES, so we can provide you with comprehensive service. All stages of personalized sweets production are performed in one place, and our graphic design team will prepare a visualization for you. At SLODKIE, you can personalize both the product and the packaging. 
Tell us for what occasion you are looking for a gift, and we will suggest the best solution for you!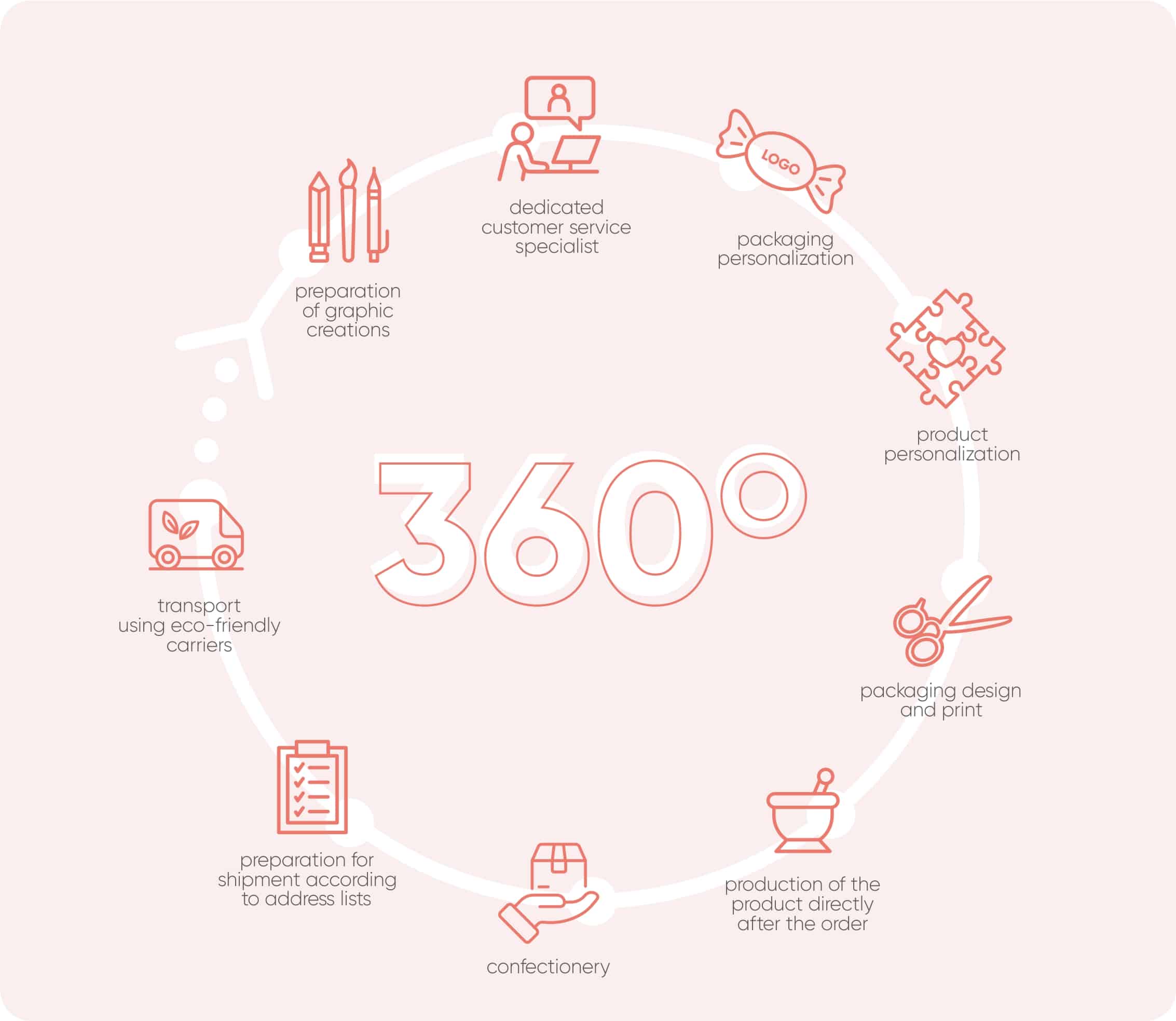 HOW MUCH CAN YOU PERSONALIZE?
As much as you want! You can place your brand's logo or design directly on the packaging and on the product itself. This way, the gift you give to your customers or employees will be fully personalized. You can use our stylistic lines by adding your logo, or prepare a completely new project with us. We will create a graphic design for you free of charge.
PACKAGING PERSONALIZATION
Our packaging is designed with personalization in mind, which is why we plan the maximum printing area and the best exposure for your logo or message as early as at the design stage. And thanks to our printing machines, our possibilities are enormous and we constantly work on their development.
They say you shouldn't judge a book by its cover… but you can certainly judge our products by their packaging. Check out what we pack our delicious sweets in!
Paper and cardboard
All our cardboard packaging is made with respect for the environment and we have an FSC certificate to prove it! Digital printing on paper is the perfect way to showcase your brand! In addition to cardboard packaging, we also have the option of creating bands for wooden or metal packaging. This is certainly the most cost-effective printing option.
Did you know that…
As the only company in Poland in the promotional confectionery industry, we are FSC-certified? It guarantees that we use paper made from recycled or environmentally friendly sources. Thanks to this, we protect forest areas every day! We constantly implement various pro-ecological solutions, expanding our offer with products that are increasingly environmentally friendly. Our actions have been noticed and rewarded with the European PSI Sustainability award by an international group of experts.
Plastic film

Thanks to this solution, we can create transparent packaging and better showcase the product. We have our own flexo printing house, so we can easily print on compostable plastic films, paper, aluminum foil, and mono films that are 100% recyclable. This way, you will show your customer your care for the natural environment. Let them see that you are eco-friendly! 
Wood 
We perform direct printing on wooden packaging. Wood is a noble type of packaging, and the print on it looks beautiful! It is perfect for packing mouth-watering pralines with delicious fillings. 
Metal
Do you remember that we also offer our lentils, candies, teas, and pralines in metal tins? Why is this an ECO option? Tins are incredibly durable and environmentally friendly as packaging material. They will not only survive washing in the dishwasher, regular long-term use, or falling from the shelf but they are also great for recycling! All metal tins in which we pack SLODKIE gadgets are aesthetically pleasing and durable. After you eat the candies or drink the tea, they are perfect for storing small items. As a result, a branded gift in a metal tin will be a long-lasting advertising gadget and will remain in the hands of the recipient for a long time. It is worth using this advertising space to strengthen your company's image. 
Did you know that…
Up to 95% of a metal tin can be recycled?
Packaging in line with the ZERO WASTE principle
Sweet treats in disposable plastic wraps and a lot of plastic waste generated? Not this time! At SLODKIE, we make sure that the sweets delight the palate, and their packaging serves longer. 
You van never find your keys, lipstick, or chewing gum in your purse? The small tubes in which artisanal nuts and dried fruits are packed are perfect for storing small items in your purse or backpack and will help you avoid clutter! 
Sweets in glass jars are not only an inventive eco-friendly gift. They are also a great container in which you can store your favorite tea, candies, but also jewelry and other small items! 
Delicious pralines and truffles come out of our drawer boxes. After eating the sweets, feel free to put medicines or writing instruments in them and take them on your next trip! 
Apply personalization also to the sweets! 
Our SLODKIE products can be customized in many ways: through graphics and by embossing the logo on the product and choosing the shape, or flavor. As a promotional confectionery manufacturer, we have many options to provide you with a unique gift that no one else will have! Choose from 10 types of chocolate and additions, such as freeze-dried fruits, flower petals, or colorful sprinkles. Use various fillings, which we can complement with an addition of your choice. Do you need short labels and natural compositions? Our candies and lollipops can be made from natural ingredients corresponding to the advertised product. You choose the composition, shape, and color of the product. There are endless possibilities.
At SLODKIE, we'll double-personalize your product – not only on the packaging but also on the product itself! Discover the most interesting product lines with this option:
CUSTOMIZE THE SHAPE 
A chocolate airplane, van, or perhaps a smartphone? We have dozens of ready-made shapes on which you can place your logo. We can also create completely new products tailored to your individual needs.
We offer a set of universal shapes, based on which we'll gladly prepare your personalized gadgets. Which one will you choose this time? Use non-standard shapes at no additional cost!
We call our chocolate shapes CHOCO4MAT. It's a unique proposal on the promotional sweets market. How to order? 
Choose from our designs or create your own unique shape!
At SLODKIE, we will create sweets in a completely innovative shape tailored to your expectations. Do you dream of a chocolate cup, a drill, or maybe a key to a door? Surprise us with your creative ideas, and we will create a unique product just for you!
Sweets in the PRINT line are a cheaper and faster option compared to items with an embossed logo! We'll prepare personalization:
ON CHOCOLATE by using edible and completely safe colorful food inks from certified suppliers, which enable us to execute any design with colorful graphics, logo, or your company name.
ON PACKAGING by using digital printing, which allows for printing any graphics on the packaging, without any limitations related to the number of colors or tonal transitions. 
Printing on chocolate, chocolate dragees, lollipops, or cookies? We will make it with edible and completely safe colorful food inks from certified suppliers. You can place any design with colorful graphics, logo, or your company name. We use inks that contain no ingredients of animal origin and are GMO-FREE, with the highest safety certification for pharmaceutical and food use. We create a thin, imperceptible layer of decoration that produces a clear image, colorful graphics as well as your company's logo or name on the product. 
Do you dream of cookies with your company logo or graphics, or maybe a new graphic design? DISCOVER OUR LOGO COOKIE! Two shapes, with endless customization possibilities! 
We improved their composition, created a new heart shape, and increased customization options! We personalize directly on the cookie using edible and completely safe colorful food inks from certified suppliers. It enables the execution of any print with colorful graphics, logo, or your company's name. We use inks free of ingredients of animal origin and GMO. 
Check out our LOGO COOKIE proposals! 
Discover small lentils with big customization possibilities. 
Do you want to perfectly consolidate your brand among customers? For this purpose, a product with double personalization, such as the Brand Me! Tin, will work great! Our chocolate lentils with a crispy colorful shell and graphics directly on them not only have a delicious taste but are also an extraordinary way to convey your marketing message. 
Lentils are available in a mix of warm colors, obtained only from natural dyes. You won't find any artificial flavors in their composition, and 60% of each lentil is delicious and velvety milk chocolate.
EMBOSS YOUR LOGO ON SWEETS
We have our own CHOCOLATE FACTORY and CARAMEL FACTORY, so we offer non-standard solutions. We can also emboss your logo directly on the product. See our sample works: 
We have so many possibilities, but we know them all and will gladly advise you on which product to choose and how to personalize it. Our creative design team will create an individual solution for you! Tell us about your expectations, the occasion for which you are looking for a product, and your budget, and we will guide you through the entire ordering process.